NEWS
Information and announcement from KYOCERA Cutting Tools
2023.09.12

NEW
New Coated CBN for Machining Hardened Material KBN010 has been released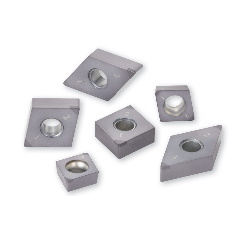 New grade KBN010 of CBN insert for turning has been released.
Suitable for the high speed finishing of Hardened Material Machining, provide the stable machining and long tool life of automotive parts such as shafts and gears.
Coated CBN for Machining Hardened Material KBN010/KBN020 achieves Wear Resistance and Fracture Resistance with the combine of CBN base material and new coating "MEGACOAT TOUGH". Coating and base material achieve adhesion and suppress layer peeling.

In addition to the excellent versatility KBN020 that covers from Continuous to Heavy Interrupted Machining, KBN010 which is suitable for high-speed finishing machining has been fulfilled in product line-up. Supports a wide range of machining areas.
Product information / Catalog
https://asia.kyocera.com/products/cuttingtools/product/kbn020