Kyocera has been a pioneer in developing innovative solar power solutions for over 40 years. During this time, Kyocera has set the standard for harnessing the Sun's energy with highly reliable and high quality, best-in-class technology ― having produced an accumulated 8 gigawatts of solar power generating equipment to date.

Kyocera Asia Pacific serves Oceania and greater Asia, covering countries in the south, south-east and the middle-east. Kyocera solar modules have been widely used in residential, commercial and industrial PV projects, with a particularly impressive track record in Thailand.

Our leading international partner in Thailand, Solar Power Company Group (SPCG), has been utilizing Kyocera solar modules with great results since 2010 in their monumental solar farm project, now consisting of approximately 260 megawatts in total. Along with their exclusively designed ONE STOP solution (system design, installation, O&M and application support) for customers, our solar installations are also closely observed with a remote monitoring system to ensure optimal performance.
Solar Modules
60 Cells Module:
36 Cells Module: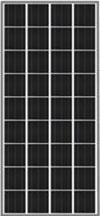 ・KD150SX-UFU
Pmax = 150 W
Isc = 8.87 A
Voc = 22.5 V
Ipmax = 8.25 A
Vpmax = 18.2 V



・KD145GH-4FU
Pmax = 145 W
Isc = 8.78 A
Voc = 22.3 V
Ipmax = 8.11 A
Vpmax = 17.9 V
Spec Sheet