Ceramic Kitchen Knives and Tools
About price
After years of use, for a small fee you can have your knife resharpened by one of our authorised Kyocera service partners. A professional resharpening service that accords with our high-quality ceramic knives.
Please bring your knife to the shop which you purchased it or please get in touch with the service partner responsible before sending them.
※ The shipping fee is borne by customer.
Check before you send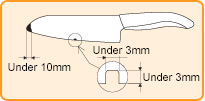 The chipping over 3mm SQ on the edge or breakage over 10mm from the tip might not be able to re-sharpen. For details, please contact our authorized service center or the shop you purchased.
Other inquiries about sharpening
Please contact us from inquiry form.
Knives

Frying Pan

Mug Bottle
About Purchase
Other Product Introduction