Ceramic Kitchen Knives and Tools
Safety manual
Recommended water level
Please keep the amount of drink up to the specified position in the figure. If you put too much, it may cause the drink to overflow when the cap unit is closed.
<Enhance the heat retention (cooling effect)>
Pre-heat (cooling) for 1 to 2 min. with hot (cold) water to enhance heat retention (cooling effect).
* Dispose the Hot (cold) water after pre-heat (cooling).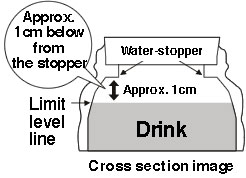 Instruction for lock system
① Place the main unit in an upright position, push the lid until it clicks, and it is now securely close.
② Push down the lid lock completely and confirm the indicator shows red colour.
※ Please do not leave the lid open.
※ After drinking, please close the lid with the main unit upright.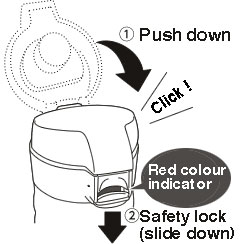 Keep the bottle upright position in your bag and make sure it is completely locked to avoid any water leakage.
Lid sealing structure
How to install the lid cover gasket
After aligning the hole of the rid cover gasket to the protrusion of the lid, cover the entire lid and fit over the entire circumference to prevent crevice.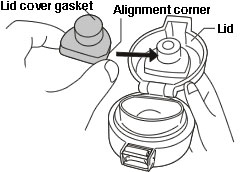 How to install stopper gasket
Check the top and bottom direction and install it correctly in the groove facing to the pouring rim.
Push the stopper gasket evenly with your finger to stablize in the groove.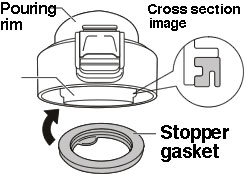 Always make sure the stopper gasket mounted in the correct position and direction.
Knives

Frying Pan

Mug Bottle
About Purchase
Other Product Introduction