Ceramic Kitchen Knives and Tools
Product Lineup
Diamond Roll Sharpener   RSD-01BK
Sharpens both sides of the knife blade for fast results
Specifications

Dimensions: about 55 mm × 136 mm × 50 mm
Weight: Approx 60 g
Material:

(Main body) ABS resin Polyacetal
(Whetstone) Industrial diamond
(Other) Stainless steel elastomer

Heat resistant temperature:

70 ° C (ABS resin)
100 ° C (polyacetal)
110 ° C (elastomer)

Made in Japan
Features
Good for sharpening knives of various materials such as Ceramics, Stainless steel, Steel and Titanium etc.
1. Diamond grinding wheel sharpens not only on metal kitchen knives (stainless steel, steel, titanium) but also on Kyocera made ceramic knives.
2. The spring function grinding wheels will achieve perfect performance to re-sharpen by ease.

3. You can sharpen a kitchen knife simply by putting the knife into the groove and pulling it slowly a few times.
※ Diamond wheel rotates and sharpen the cutting edge of the knife with same performance as the knife sharpening stone.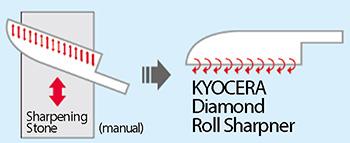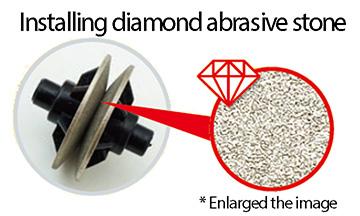 How to use
1. Place the diamond roll sharpener on a stable flat surface and hold it down to prevent it from moving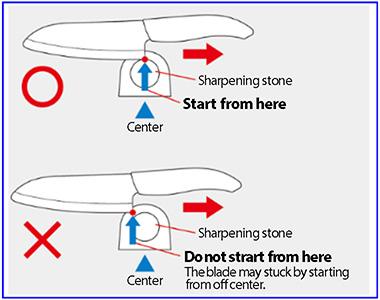 2. Seat the knife's jaw vertically in the middle of the guide slot (gap) and gently stroke it.
- The spring function installed beneath the grinding wheel moderates to achieve an optimum force to be applied preventing excessive force from damaging the blade.
- Stroke the knife several times through the guide slot to sharpen while confirming the degree of sharpness. increase the number of strokes gradually.
3. After sharpening, please rinse the knife.


How to Care
1. After use, please do not disassemble but just rinse it.
- The grindstone part cannot be removed from the main body. There is a risk of damage if you try to force it out.
2. After washing, keep it dry.
- Extremely worn blades and visible blade chip cannot be repaired.
- For blade chips that cannot be repaired with the diamond roll sharpener for KYOCERA Ceramic Knife, please contact the service centre.


Notes
- Please keep the sharpener in a safe place out of reach of children
- Please do not use it on a wet or slippery place to prevent any injury.
- This product is for double-edged knives made of ceramic and metal knives include stainless steel, steel, titanium etc. We cannot grind single-edged knives such as sashimi knives etc., special knives such as serrated bread knives etc. Also, ceramic knives are limited to Kyocera made and we do not provide warranty when sharpening are performed on non-Kyocera ceramic knives.
- This product is a simple sharpener to restore the sharpness of a dull knife. Please do not use it on a new knife as it should already be sharp.
- Do not polish the sharpener with polishing powder to avoid scratches.
- Do not put the sharpener near a fire. The resin part may deform.
- Do not twist the knife in the guide slot (gap). It may cause blade breakage or blade chipping.


Video
Knives

Frying Pan

Mug Bottle
About Purchase
Other Product Introduction
Purchase this item
Related products